Emergence Earns Cygnus Award for Speculative Fiction
Emergence Review excerpts :
 "…Knutsen's book is a compelling read for those who like a dash of science fiction in their whodunits…. A fast paced mystery with a unique and startling premise. This thought-provoking and intriguing novel crosses genres to create a great read that takes place in the Pacific Northwest. Highly Recommended."
Emergence is a fast paced science fiction tale filled with mystery and intrigue.
It is an enthralling, mind-stimulating read. From one chapter to the next, C.A. Knutsen takes readers on a journey from the crime scene investigation to the interesting life and childhood of Jim Post.
Readers will get caught up in both the investigation of the crime and the subjects of DNA and evolution of humankind.
C.A. Knutsen has created a clever intellectual piece of visionary fiction.
The characters are well developed and woven into the plot with precision and forethought. Each character is unique and interesting, and a vital part of the story. With a lot of activity occurring, there is also much substantiated material integrated into the storyline.
The premise of the story fringes on the unknown and what could be in the world of technology.
A very smart and thought-provoking read. Readers will be turning the pages quickly as they are mesmerized by the thread of mystery and the scientific components that are the fabric of this great novel.
Emergence is an exceptional, well-researched narrative with vivid descriptions and an ending that will satisfy readers.
A Man of Mystery
Jim Post, the wealthy leader of Compass Enterprises, is a man of mystery whose off-the-charts intellect and physical prowess have sparked uneasy whispers.  Then badly-burned human remains are found in the ashes of Post's home in rural Southwest Washington State.  Jim is missing.  Is he the victim?  Was it murder?Post's associates at Compass, dedicated to continuing his humanitarian mission in developing new technology, help investigate his disappearance.  They're aided by an advanced Artificial Intelligence that Post created, but conceal its existence from the police and a public not quite ready for full disclosure.  When will the time be ripe for a revelation that will alter the future for everyone?
Emergence Amazon  Emergence Barnes and Noble
Forty Million and Counting…
Now that Sam Baxter and the other forty million H2s—newly-evolved humans with different DNA—have revealed their presence to the world, their challenges have only begun. The rapidly-expanding network of H2s must address fears of their enhanced abilities, countering violent attacks even as they take action to address global crises of pollution and warfare. With the aid of a unique artificial intelligence, along with help from an unexpected quarter, the new humans tackle the challenges at "home" even as they receive a mysterious distress call from a distant planet.
Factotum – Amazon  Factotum – B&N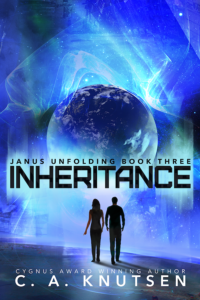 A New World
"You may call me Sways," the Sunaj research team hears from a telepathic alien host when they arrive at an unknown planet fifty light-years from Earth, in answer to a distress call from the ocean-dwelling species. The towering treelike creatures enter into a partnership of discovery with the human arrivals to find the solution to a life-threatening challenge facing these gentle Ocean denizens. The Sunaj team, mostly newly-evolved "H2s" with enhanced abilities, uncover a 40,000 year-old mystery that ties the planet Ocean to ancient Earth.  This discovery, coupled with the research at the Sunaj Lab in Frazier, Washington, may explain what triggered the recent human evolutionary changes. Weaving together the threads of the "Janus Unfolding" series into a satisfying conclusion, Inheritance broadens the scope of futuristic exploration as it embraces all forms of intelligence in a new "family of being."
Inheritance Amazon  Barnes and Noble
Save
Save
Save
Save